If I had to stand up in front of the class and tell everyone what we did this summer—and thankfully I don't have to do that—this is what I would say.
We did a little bit of everything and a little bit of nothing.
And yes, I would probably just leave it at that. You know, being a reticent public speaker and all. But since we're here and it's just me and my best friends (my phone and laptop), I'll give you a little more.
As we prepare to head back to school this week, here's the good, the bad, and the miserable from summer 2018.
We played a lot of tennis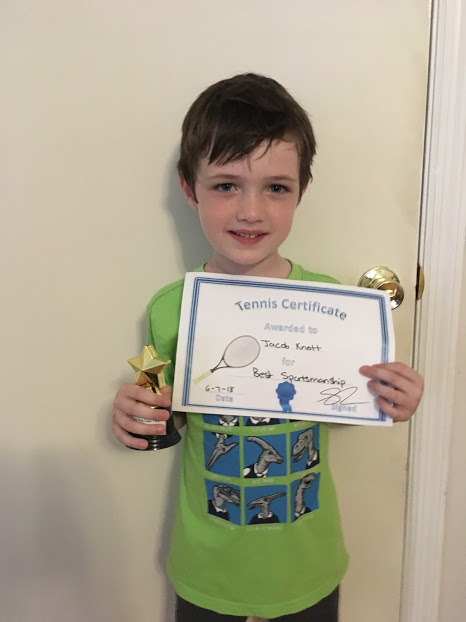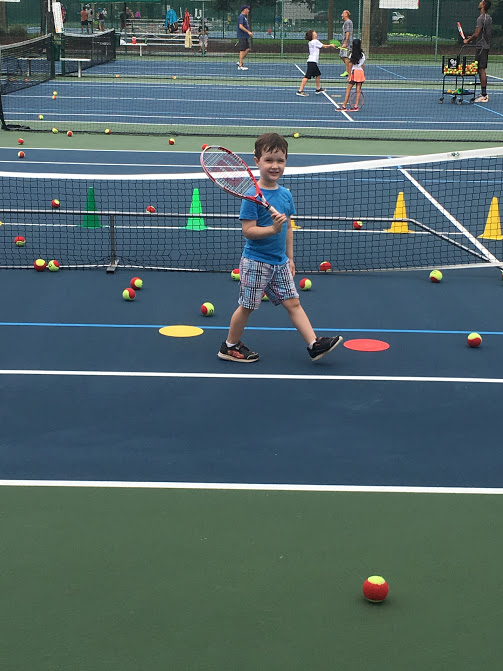 My six-year-old went to tennis camp at our local courts four days per week for most of the summer. He loved it. It was great to see. Tennis is my thing, so he has no choice in the matter, really, but it's good that he's agreeable. I've played tennis since I was about six or seven and I taught tennis for several years after college. Seeing my kid enjoying such a wonderful and fun camp did make me miss teaching just a little, but I love being on this side of it, too. Often at pick up time, the younger two kids and I would arrive a little early and practice our tennis under the covered pavilion. My four-year-old also takes lessons on Saturday mornings, so he was able to teach me everything I was doing wrong.
We made a quick road trip to North Carolina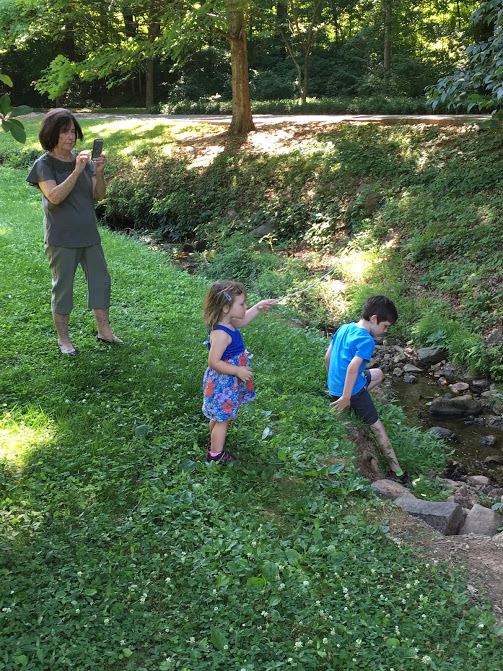 Did I mention I took the kids on a road trip to North Carolina by myself? Oh right, that's my go-to story now for literally every social interaction, so you've probably heard about it directly from me. (You haven't, of course. I haven't had any social interactions.) The frustration of telling my kids 1,237 times to get back in their car seats might have been a low light of the summer, but the trip as a whole was definitely a highlight. There is perhaps nothing I will remember more from this summer than my mom showing my kids around the park where she used to play when she was a girl.
We read a few books
So as not to totally neglect our academics, we did manage to squeeze in a few books during the summer. My two-year-old became particularly adept at finding items in her favorite Mickey Mouse picture search book. She usually points out the items with her foot, which gives her extra style points. I managed to break my personal book drought by reading a couple books by Florida writer Lauren Groff that I would definitely recommend (Fates and Furies and Florida).
We dressed up like super heroes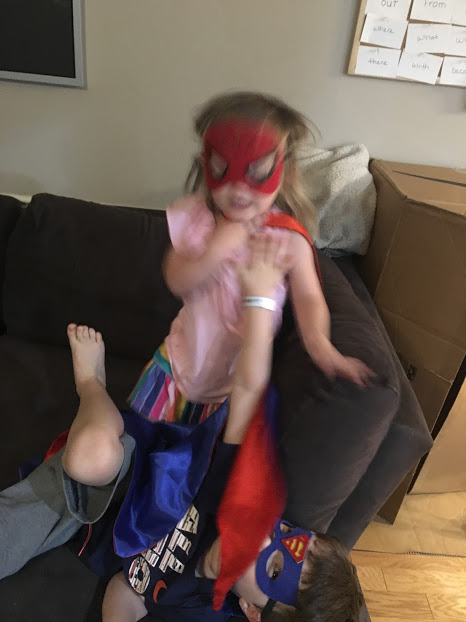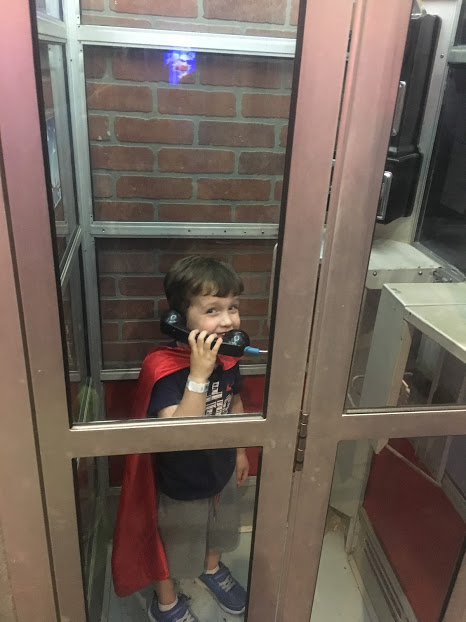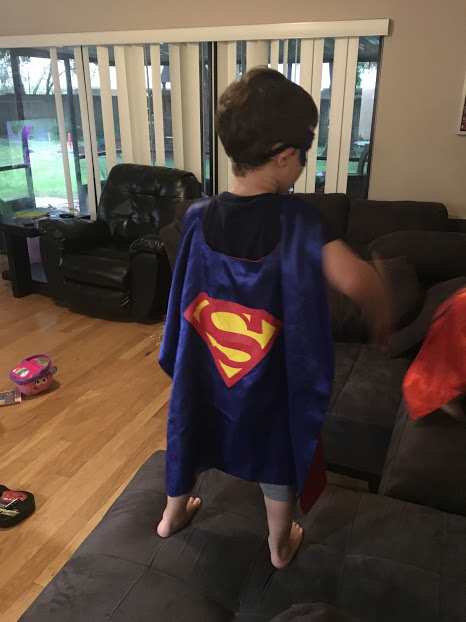 Because, of course we did.
We went to the beach a couple times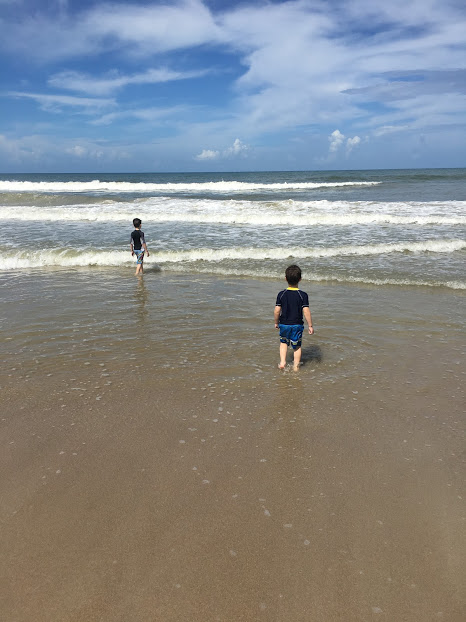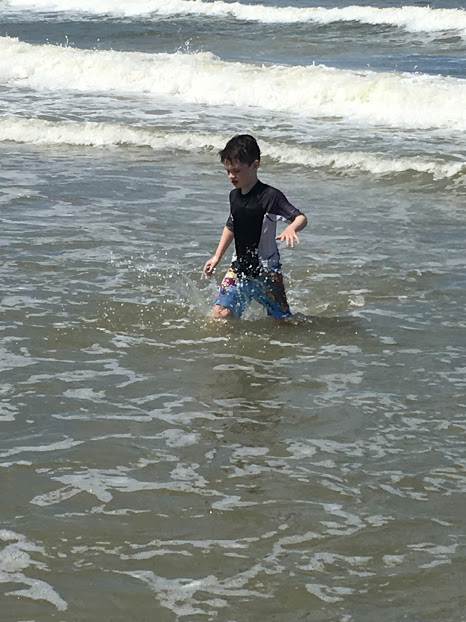 Ah, the beach. One of my least favorite places. I mean, it's fine, I guess, but in the summer with little kids it's more work than pleasure. But, I sucked it up and fulfilled my parental duty. The boys loved it and the one time my daughter went she hated it. I try not to play favorites, but she does make it difficult sometimes.
We played with cousins (big and small)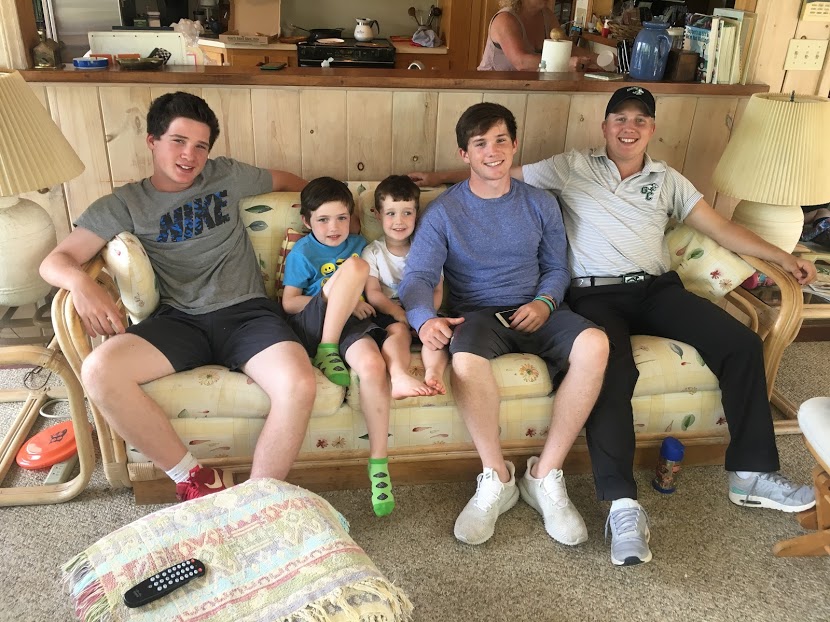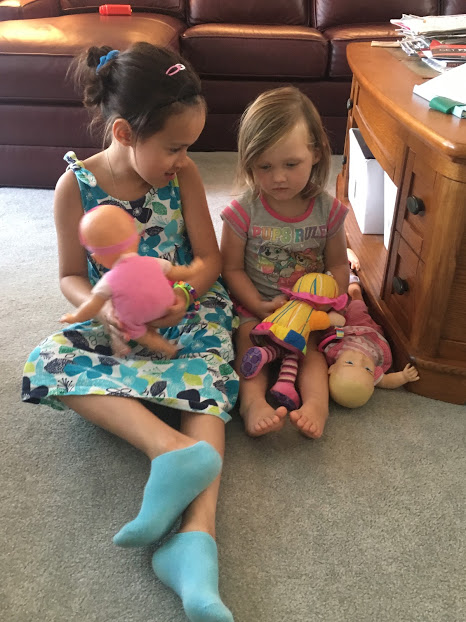 Because family always makes things more fun.
We woodworked that one time for some reason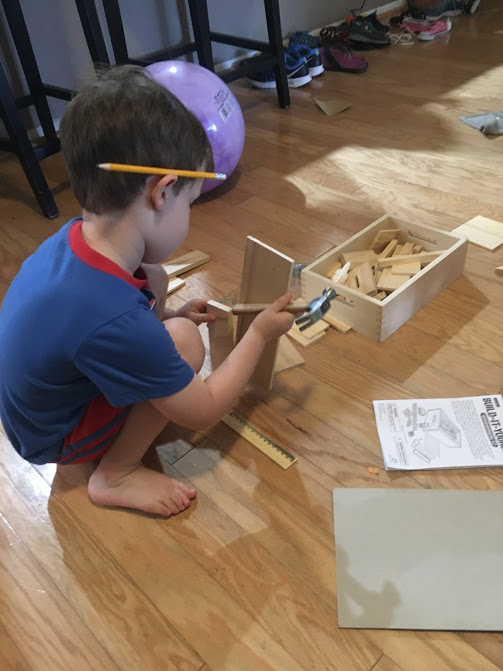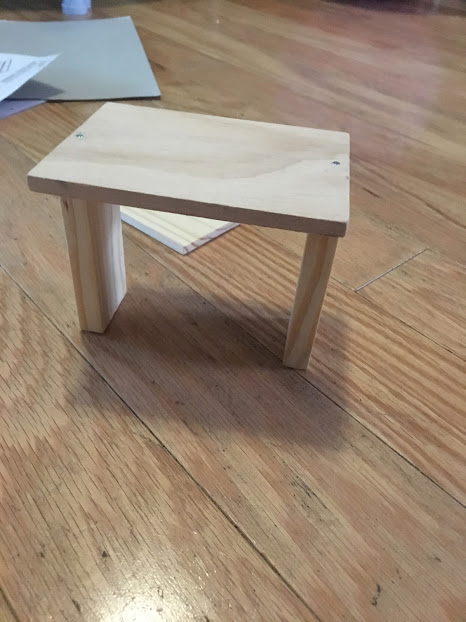 Who knows…we were desperate?
We pretended to play chess
The six-year-old mastered bike riding without training wheels and the two-year-old started riding her new bike with training wheels. My wife and I didn't use ours at all. Bike riding in Florida during the summer is rather unpleasant because…
We sweltered in the Florida heat
I am very thankful for air conditioning.
We soaked in the Florida rain
Hey, it beats baths.
We went to the zoo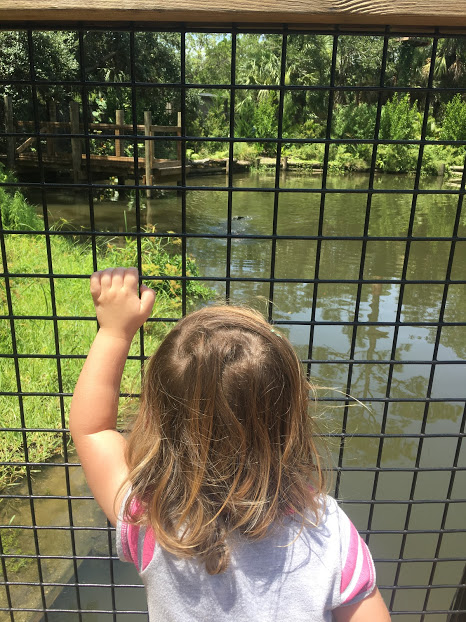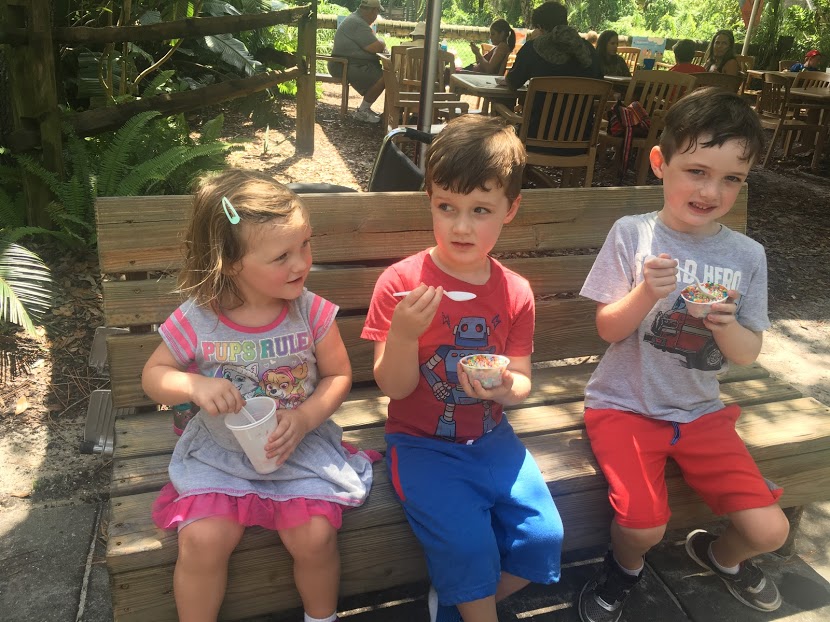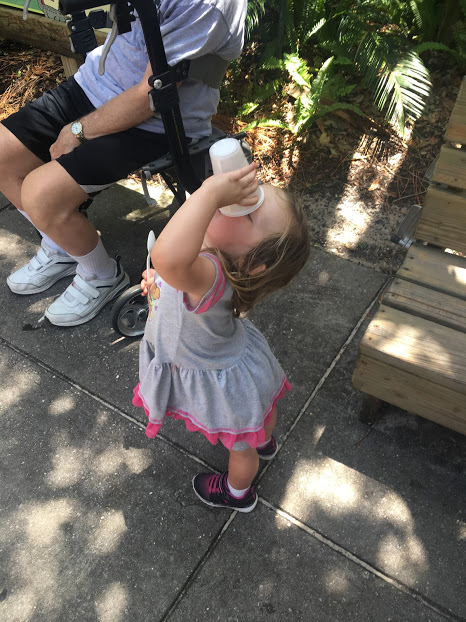 We are lucky to have a great zoo nearby and we swung by there once this summer. The Dippin' Dots were on point.
We ate ice cream
A pretty large amount. And some of it even made it into our mouths, I think.
We went to the science center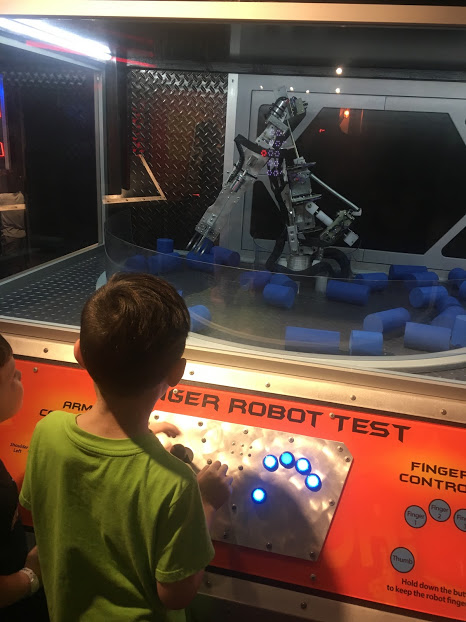 Another of our favorites. The Orlando Science Center is a great spot to escape the heat for a few hours.
We went to the library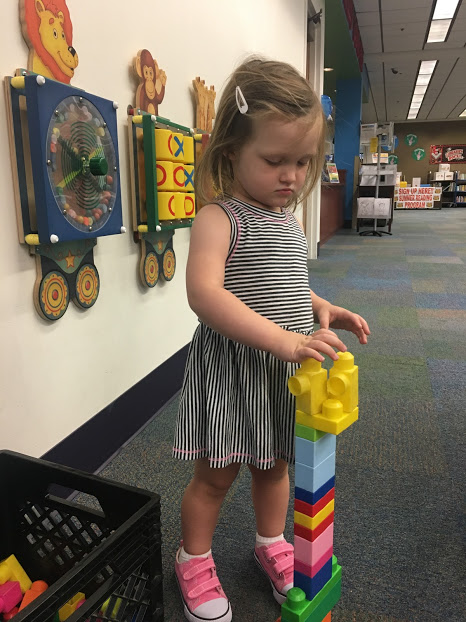 Our libraries are the best. I mean, I'm sure Amazon or whatever would provide free programming for community children if we got rid of our libraries as some have recently suggested, but for now, we'll stick with what we know. That was sarcasm, by the way. Libraries are irreplaceable. I know I'm biased because of my passion for amateur puppetry, but seriously, save our libraries!
We went swimming and played outside in water frequently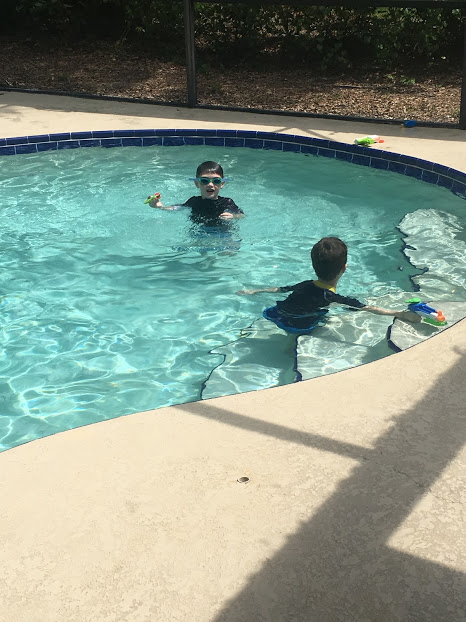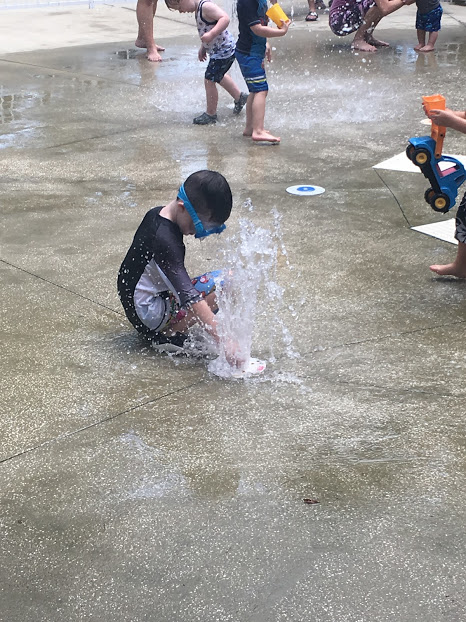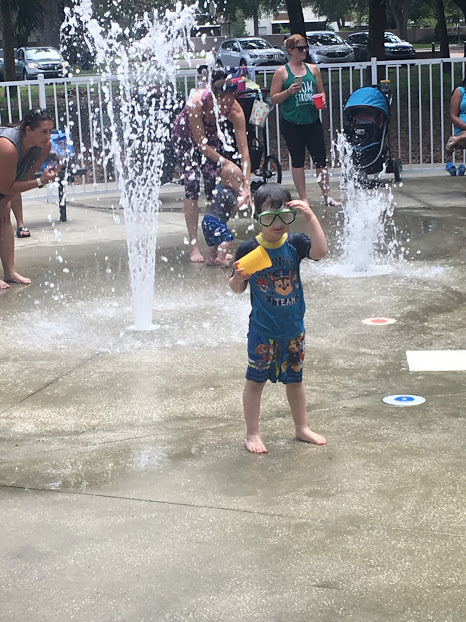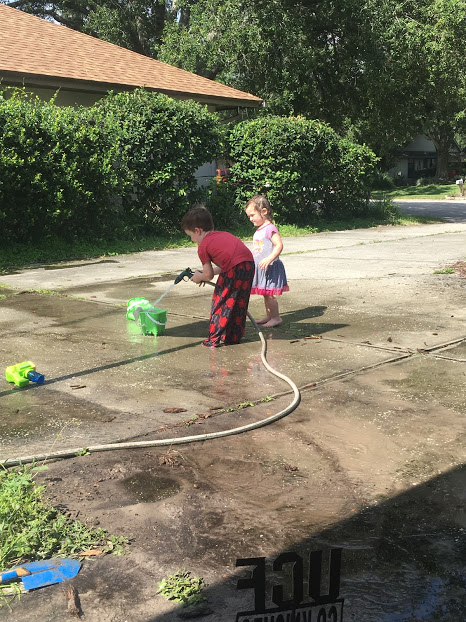 When you're outside in Florida during the summer, you pretty much have to be in water. So, we borrowed pools whenever possible and otherwise made do with our inflatable pool and portable sprinkler. Rain also works in a pinch.
We watched a lot of TV
I saved the best for last. Let's be real: Summer days are long. As I've mentioned a hundred times already, it's ridiculously hot outside. And because there are dishes to wash, food to prepare, articles to write, jokes to pitch, and sanity to maintain, we watched plenty of TV this summer. Peppa Pig, everything on Netflix, some inane YouTube Minecraft and Roblox channels—you name it, we watched it. It annoys me at times how reliant we are on TV, but I think, in the words of Linkin Park, in the end, it doesn't even matter. You have to do what you have to do to survive. And surviving summer sometimes means watching more TV than recommended by the experts.
Summer 2018: Despite some struggles, I'm calling it a win. Bring on school.
If you love this post, I have some good news. My book, Fatherhood: Dispatches From the Early Years, is available at Amazon.